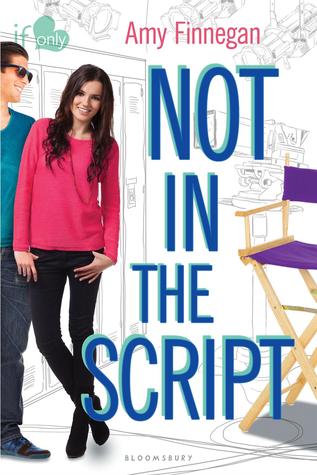 Title:
Not in the Script (If Only... #3)
Author:
Amy Finnegan
Publisher:
Bloomsbury USA Childrens
Release Date:
October 7, 2014
Goodreads
Millions of people witnessed Emma Taylor's first kiss—a kiss that needed twelve takes and four camera angles to get right. After spending nearly all of her teen years performing on cue, Emma wonders if any part of her life is real anymore . . . particularly her relationships.

Jake Elliott's face is on magazine ads around the world, but his lucrative modeling deals were a poor substitute for what he had to leave behind. Now acting is offering Jake everything he wants: close proximity to home; an opportunity to finally start school; and plenty of time with the smart and irresistible Emma Taylor . . . if she would just give him a chance.

When Jake takes Emma behind the scenes of his real life, she begins to see how genuine he is, but on-set relationships always end badly. Don't they? Toss in Hollywood's most notorious heartthrob and a resident diva who may or may not be as evil as she seems, and the production of Coyote Hills heats up in unexpected—and romantic—ways.
I'm freaking out a little. My cell shows three missed calls from my mom.
A year ago that wouldn't have bugged me. Moms do that kind of thing—call you over and over again until you pick up—but my mom must know I panic now. The last time I missed three straight calls from her number, I was on a catwalk in Paris.
When I called back later that day, her cell phone was answered by a neighbor who said he'd been trying to reach me because he had found my mom on the sidewalk, unconscious. It was the first time my mom ever really needed me, and I was halfway across the world.
While racing through the terminal to catch the next flight home, I was still shaking gold glitter out of my hair. That's when I decided that I truly, passionately hated modeling.
During our break from the table read, I head for somewhere quiet. The best place I can find is a corner on the far side of the studio, away from the actual sets. It takes Mom five rings to pick up. "Good morning," she says. "I wanted to catch you before work to wish you luck, but you must've started early. Sorry if I interrupted."
I breathe easier. "Nah. I had to be here at seven. Everything okay?"
"Of course I'm okay." She says that, but her words sound more slurred than usual. She's probably just tired. "You're the one we need to worry about," Mom adds. "All this fame go to your head yet?"
That's one thing that hasn't changed a bit: Mom is just as sarcastic as ever. The fact that her stroke didn't affect her personality is all that should matter to me, but when her voice is different, and her face is different, and she can't move her arms all over the place when she talks, like she used to, I'm reminded every day that things will never be the same.
And I can only do so much to fix it.
"I'm just chillin' in a private cabana right now, surrounded by my entourage," I tell her. "And after work, I'm buying a high-rise penthouse so I can host parties every weekend. Which reminds me, I need parental supervision. When are you moving down here?"
I doubt either one of our opinions will budge on the matter of her living in Tucson now, rather than two hours away in Phoenix, but it's worth a try.
She laughs. "Jake, the only thing more pathetic than a young bachelor living with his mother is a mother clinging to her son. I'm happy here, and I'm also happy to be rid of you and your early morning trips to the kitchen in your boxers. So leave me alone about it."
I groan. "Fine. But you're missing out on my mad cooking skills."
"Thank heaven," she says.
We talk a bit longer, then I reply to a series of texts from my friends. It's still early, but they're probably already together, hanging out around the pool at Devin's house. When it's a hundred and ten degrees before noon on most days, swimming is one of your few choices for summer entertainment. It's either that or go to the mall, and we outgrew the mall years ago. Devin texts me first, but Mark and Sophie soon join what appears to be a coordinated attack:
Devin: Hey Fabio. Do you think she'll go out with me? Talk, dude. Tell me everything.
Me: About my job? It's okay.
Devin: EMMA TAYLOR you prick.
Devin: I'm on my way to Tucson. You have two hours to live.
Mark: Ignore Devin. Emma will like me better. All her boyfriends have been blond.
Me: You actually pay attention to that stuff?
Mark: Yes, because I'm normal. You're a freak. Is she snobby?
Mark: What blonde? There's a blonde?
Me: Yep. His name is Brett Crawford. He'll love you.
Mark: Elliott, I'm driving down with Devin to strangle your pretty-boy neck.
Me: Stop obsessing about how pretty I am. It makes me uncomfortable.
Sophie: You promised to text me a photo of Brett Crawford! I've been waiting all morning!
Me: Sorry. He's wasted. Didn't think you'd want to see that.
Sophie: LIAR! He so wouldn't do that at work.
Me: He'd probably do that and a lot worse at work.
Sophie: Crazy!!!!! Is he really drunk?
Me: Nah. Just unusually stupid.
Sophie: You've ruined my day :( :( :(
Me: I'll make it up to you. Want to meet Emma Taylor sometime?
Sophie: YES!!!!!!!!!!!!!!!!!!
Sophie: Oops. I just told Mark and Devin that you're gonna introduce me to Emma. You're in trouble.
Me: So I've heard. Remind them that they have Pixie Sticks for arms.
I look up from my phone when a PA calls everyone back to the table read. The info dump this morning has been a bit overwhelming, but there's been plenty to hold my attention—one thing in particular.
Yeah, I might've promised Devin and Mark that I'd check out Emma for them and eventually talk them up or whatever. But that was before I met her.
a Rafflecopter giveaway