ACOTAR is one of the best YA fantasy books of 2015. Yeah, no, I don't care that it's only May and I rationally shouldn't be make such a bold statement. Please just believe me when I say that it's an amazing book, because it's THAT AWESOME. So... I bet you can just imagine my excitement in being able to say that I have Sarah J. Maas on the blog today. (!!!) Yes guys, I was able to interview SARAH J. MAAS. I'M STILL FREAKING OUT (Thank you to Louisse of Throne of Glass PH for this opportunity!)
Okay, enough of me blabbering - check out the interview and the giveaway below!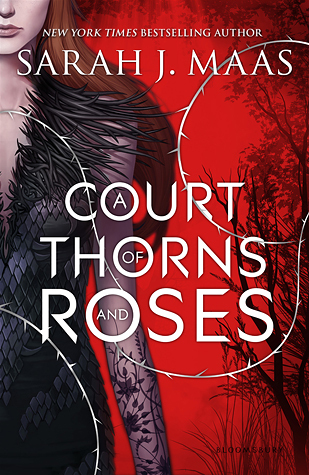 Title:
A Court of Thorns and Roses
Author:
Sarah J. Maas
Publisher:
Bloomsbury
Release Date:
May 5, 2015
Goodreads
When nineteen-year-old huntress Feyre kills a wolf in the woods, a beast-like creature arrives to demand retribution for it. Dragged to a treacherous magical land she only knows about from legends, Feyre discovers that her captor is not an animal, but Tamlin—one of the lethal, immortal faeries who once ruled their world.

As she dwells on his estate, her feelings for Tamlin transform from icy hostility into a fiery passion that burns through every lie and warning she's been told about the beautiful, dangerous world of the Fae. But an ancient, wicked shadow grows over the faerie lands, and Feyre must find a way to stop it . . . or doom Tamlin—and his world—forever.
INTERVIEW:
1.) Please describe ACOTAR in 5 words.
Romantic. Dark. Sexy. Brutal. Lush.
2.) Let's say you got shipwrecked in an island, and you get to pick one ACOTAR character to save you. Who will you pick, and why?
Rhysand. One, because he's yummy, and two, because his power allows him to jump between places. So, he'd literally be able to take me anywhere I wished.
3.) If you were given the chance to collaborate with an author, who would she/he be and why? Also, what series would consider doing a crossover with, if possible (TV series, movies, books, etc.)
My best friend and fellow YA author, Susan Dennard. She and I have already co-written a bunch of stuff, including The Starkillers Cycle, which is a free serialized space opera on tumblr: http://thestarkillerscycle.tumblr.com
As for crossover series…. I'd love to do an Alien franchise crossover. I'm obsessed with those films (my phone case is a meditating xenomorph). Celaena hunting xenomorphs would be the definition of Epic.
4.) If you were to belong is a faerie court, which one would you be in and why?
So hard to answer that question without spoiling future books, since we get to see some of those courts (and the secrets they contain)!
5.) Hi Sarah, Rhys here. Lyra is forcing me to ask... Maybe you could give the readers a hint of what's in store for me in the coming books....?
Many things. Awesome things. Terrible things. But you're going to start off by calling in that bargain you made. And you're going to have to fight to keep all your secrets hidden once you do.
6.) Last, but not the least, if you had the chance to cook for someone you don't personally know and invite him/her over dinner, who would that person be, and why?
I love this question! Cooking for someone is so different than going out for dinner, isn't it? So much more intimate and personal! So, honestly…. Sharon Hinn. She's perhaps my favorite fantasy author (up there with Megan Whalen Turner, Anne Bishop, and Patricia A. McKillip), and I'd just love to get to tell her how much of an impact her books have had on me, and how much inspiration they've given me as a fellow writer of romantic fantasy. I'd also want to learn about how she creates such intricate, unique worlds, compelling and real characters, and how she basically just…does everything. I wish more people knew about her work, because she is second to none.
a Rafflecopter giveaway